BUYING!! BUYING!! were ALWAYS BUYING!! Call about your collection: 310 471 1959 or email at: gfg@gfg.com
10% DISCOUNT ON POST WWII ONLINE/INTERNET UNGRADED CARD ORDERS OVER $50 (PSA, SGC, BVG ETC EXCLUDED)


NO DISCOUNTS ON PRE WORLD WAR II OR PROFESSIONALLY GRADED CARDS.
LOGIN
SHOPPING CART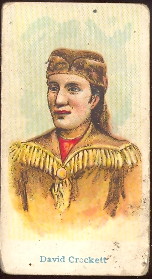 Wild West Caramel Cards

This 20 card set was issued with Caramels by the American Caramel Co. in 1910.
Set includes Wild West Characters like Daniel Boone, Buffalo Bill, Davy Crockett, and other popular figures from the Wild West.


IMPORTANT INFORMATION ABOUT ORDERING, AND FAQ
We are always interested in buying any of the 20th century cards you may have.


Feel free to let us know if you have any questions or need additional scans.

RETURN TO MAIN PAGE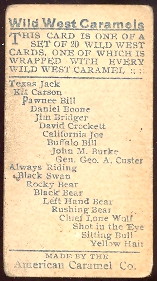 LISTS OF 20TH CENTURY NON-SPORTS CARDS FOR SALE!
We now Accept Paypal for all purchases.





10 Day Moneyback guarantee on all card sales.
You can email us at: gfg@gfg.com
or call us at 310-471-1959
NOTICE: IN THE INTEREST OF AVOIDING VIRUSES, IF YOU SEND EMAIL, AND LEAVE THE SUBJECT FIELD BLANK, YOUR EMAIL WILL PROBABLY BE DELETED.

Or send orders to:
Dave''s Vintage Baseball Cards
David Levin
p.o. box 251887
Los Angeles, California. 90025
USA
Orders under $20 are subject to an additional handling charge.
Card availability and prices subject to change.
Copyright © 1997 all rights reserved ! to Copyright © 2023 all rights reserved !