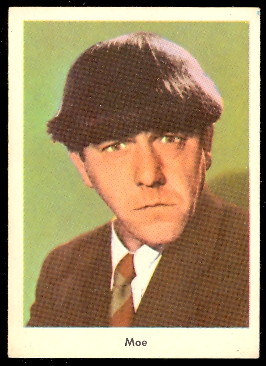 The 1959 Fleer Three Stooges is one of the more popular non-sports sets. The set contains 96 cards and features Moe, Larry, and Curly as the famous Three Stooges. The cards have color photos on the front and the backs have biography information along with an advertisement for the Three Stooges Columbia Feature Film "Have Rocket, Will Travel". Card numbers 1 (Curly), 2 (Moe), and 3 (Larry) are very desirable. Card numbers 16, 63, and 64 are also found with a checklist back and are very rare. The cards measure 2-1/2" x 3-1/2" in size.



WE ARE BUYING BUYING BUYING!!

IMPORTANT INFORMATION ABOUT ORDERING, AND FAQ


RETURN TO THE NON-SPORTS PAGE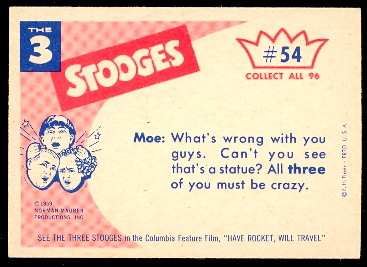 .
#
Description
Conditions

---

2
Moe
()

NM Better
NM
EXMT
EX
VGEX
VG
Good
Fair
--
--
--
--
1 in stock
$240.00/each
--
--
--

---

4
Room In Basement
()

NM Better
NM
EXMT
EX
VGEX
VG
Good
Fair
--
--
--
1 in stock
$12.50/each
--
--
--
--

---

18
One More Rehearsal
()

NM Better
NM
EXMT
EX
VGEX
VG
Good
Fair
--
--
--
--
1 in stock
$10.00/each
--
--
--

---

19
Curly Gets A Bite
()

NM Better
NM
EXMT
EX
VGEX
VG
Good
Fair
--
--
--
--
--
1 in stock
$8.25/each
--
--

---

21
Peek-A-Boo
()

NM Better
NM
EXMT
EX
VGEX
VG
Good
Fair
--
--
--
--
1 in stock
$10.00/each
--
--
--

---

25
Take The Elevator
()

NM Better
NM
EXMT
EX
VGEX
VG
Good
Fair
--
--
--
--
1 in stock
$10.00/each
--
--
--

---

27
Not Wanted
()

NM Better
NM
EXMT
EX
VGEX
VG
Good
Fair
--
--
--
--
1 in stock
$10.00/each
--
--
--

---

29
Small Brain
()

NM Better
NM
EXMT
EX
VGEX
VG
Good
Fair
--
--
--
--
1 in stock
$10.00/each
--
--
--

---

33
One Buttered Muffin
()

NM Better
NM
EXMT
EX
VGEX
VG
Good
Fair
--
--
--
--
2 in stock
$10.00/each
--
--
--

---

39
Test Flight
()

NM Better
NM
EXMT
EX
VGEX
VG
Good
Fair
--
--
--
--
--
1 in stock
$7.50/each
--
--

---

42
Hair Raising Story
()

NM Better
NM
EXMT
EX
VGEX
VG
Good
Fair
--
--
--
--
--
1 in stock
$7.50/each
--
--

---

43
No Down Payment
()

NM Better
NM
EXMT
EX
VGEX
VG
Good
Fair
--
--
--
--
1 in stock
$10.00/each
--
--
--

---

46
Singing In Shower
()

NM Better
NM
EXMT
EX
VGEX
VG
Good
Fair
--
--
--
--
1 in stock
$10.00/each
--
--
--

---

49
Always On The Go
()

NM Better
NM
EXMT
EX
VGEX
VG
Good
Fair
--
--
--
--
1 in stock
$10.00/each
--
--
--

---

50
Roman Rascals
()

---

52
Indigestion
()

NM Better
NM
EXMT
EX
VGEX
VG
Good
Fair
--
--
--
--
--
1 in stock
$7.50/each
--
--

---

53
Thats An Order
()

NM Better
NM
EXMT
EX
VGEX
VG
Good
Fair
--
--
--
--
2 in stock
$10.00/each
--
--
--

---

59
Did You Have To Sneeze
()

NM Better
NM
EXMT
EX
VGEX
VG
Good
Fair
--
--
--
--
--
1 in stock
$7.50/each
--
--

---

61
Never Took A Lesson
()

NM Better
NM
EXMT
EX
VGEX
VG
Good
Fair
--
--
--
--
1 in stock
$10.00/each
--
--
--

---

66
Horse Doctors
()

NM Better
NM
EXMT
EX
VGEX
VG
Good
Fair
--
--
--
--
--
1 in stock
$7.50/each
--
--

---

83
Doctor In The House
()

NM Better
NM
EXMT
EX
VGEX
VG
Good
Fair
--
--
--
--
--
2 in stock
$7.50/each
--
--

---

86
Round And Round
()

NM Better
NM
EXMT
EX
VGEX
VG
Good
Fair
--
--
--
--
--
1 in stock
$7.50/each
--
--

---

91
Curly Uses His Head
()

NM Better
NM
EXMT
EX
VGEX
VG
Good
Fair
--
--
--
--
--
1 in stock
$7.50/each
--
--